As a special Xmas treat for Ruby Weekly readers, Ruby 1.9 Walkthrough is just $9 (down from $19).
Be quick though, it goes back up to $19 again after the weekend :-) (by Dec 19th)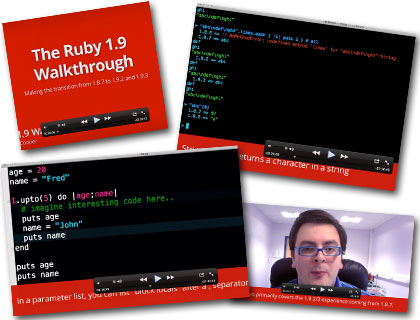 The Most Comprehensive and Up to Date Walkthrough of Ruby 1.9 for Existing Rubyists.
The Ruby 1.9 Walkthrough is a thorough, up-to-date video-based walkthrough of Ruby 1.9.2 and 1.9.3! What's new? What's gone? What's different?
I'm Peter Cooper, the author of Beginning Ruby and editor of Ruby Inside. I created The Ruby 1.9 Walkthrough because the "What's new in Ruby 1.9?" articles I've found are either out of date (a lot has changed) or only skim the basics.
This screencast is the most thorough and up to date guide to Ruby 1.9 from the Ruby 1.8 perspective.
"I've completed @peterc's Ruby 1.9 Walkthrough! I know Kung Fu." — JEG2

My "Keep The Stuff" Money Back Guarantee
I want you to be happy. So if you're not, let me know. You'll get a full refund and keep anything you've received :-)
What You'll Learn
For the full contents scroll down the page a bit further, but here's some of what you'll pick up:
How proc and lambda behavior differs significantly from 1.8
How to wrestle with character encodings like UTF-8 (and issues to be aware of when upgrading old apps)
The new and differing ways to check range membership
How old Ruby 1.9 is and where it has descended from
New tricks and techniques opened up by the awesome new Oniguruma-based regular expression engine
The new MiniTest::Unit and MiniTest::Spec libraries
Quickly calling system library functions with Fiddle
Code coverage utilities right in the stdlib
Extensions to splat (*) behavior in 1.9
New hash syntax and key changes to hash methods
The 3 different encoding types in 1.9 and why each is important
What fibers are, how they compare to threads, and how threads have changed
Why Proc#=== makes sense as a way to call procs.. sometimes
1.9.3 specific updates (stuff that's not even in 1.9.2!)
How to tweak the garbage collector in 1.9.3
.. and I've barely scratched the surface!
"Watching Ruby 1.9 Walkthrough by @peterc and it's awesome!" — Uģis Ozols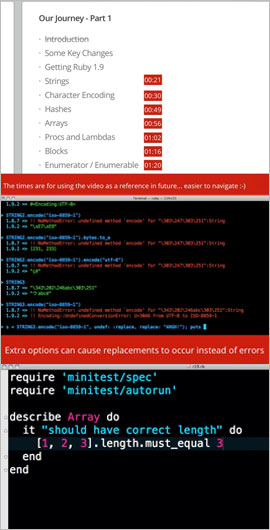 The Full Contents
Video 1
Introduction from Peter Cooper
The History of Ruby 1.9
Alternative 1.9 Implementations
Key Changes (Overview)
Getting Ruby 1.9
Strings
Character Encoding
Hashes
Arrays
Video 2
Procs and Lambdas
Blocks
Enumerators and Enumerable
Regular Expressions
Threads
Fibers
Time
Standard Library (New and Gone)
Video 3
New Syntax and Miscellaneous Elements
Garbage Collection
Ruby 1.9.3 Specifics
"Ruby 1.9 Walkthrough from @peterc is amazingly well done: production, content, everything, wow!" — Marc-André Cournoyer


3 * 1hr H264 720p (304MB) — only $19 $9
Buy a site license here - $49 (for 4+ developers)

PayPal acct not required (Click "Continue.")
Immediate download after purchase.
Links to Apple TV/iPad and MPEG4 container versions included in download.

My "Keep The Stuff" Money Back Guarantee
I want you to be happy. So if you're not, let me know. You'll get a full refund and keep anything you've received :-)
If you have any lingering questions or just want to talk, e-mail me at peter@petercooper.co.uk. I'm also available as petercooperuk on Skype if you want to IM me.